Pec pod Sněžkou
We rent complete equipment from the Dynafit brand. We offer Radical 88 ski sets and for more demanding and experienced ski mountaineers we offer Blacklight 88 skis. For your little mountaineers, we recommend to try the Youngstar Set.

Phone
+420 608 019 418
Daily opening hours
9am to 6pm
Our skis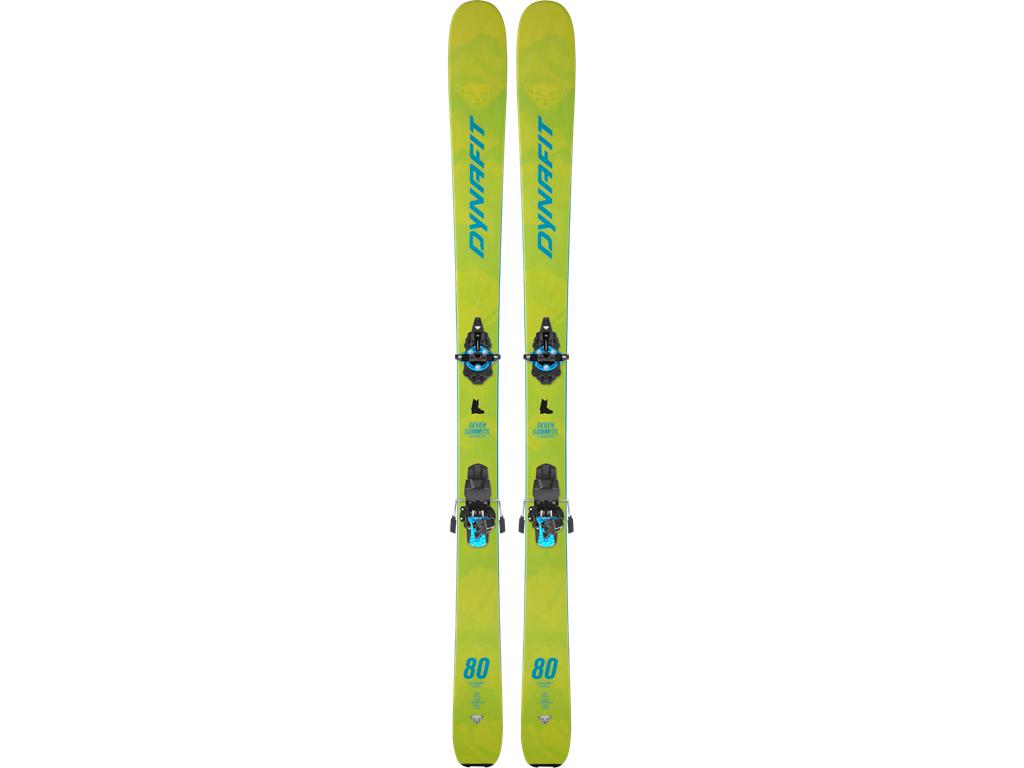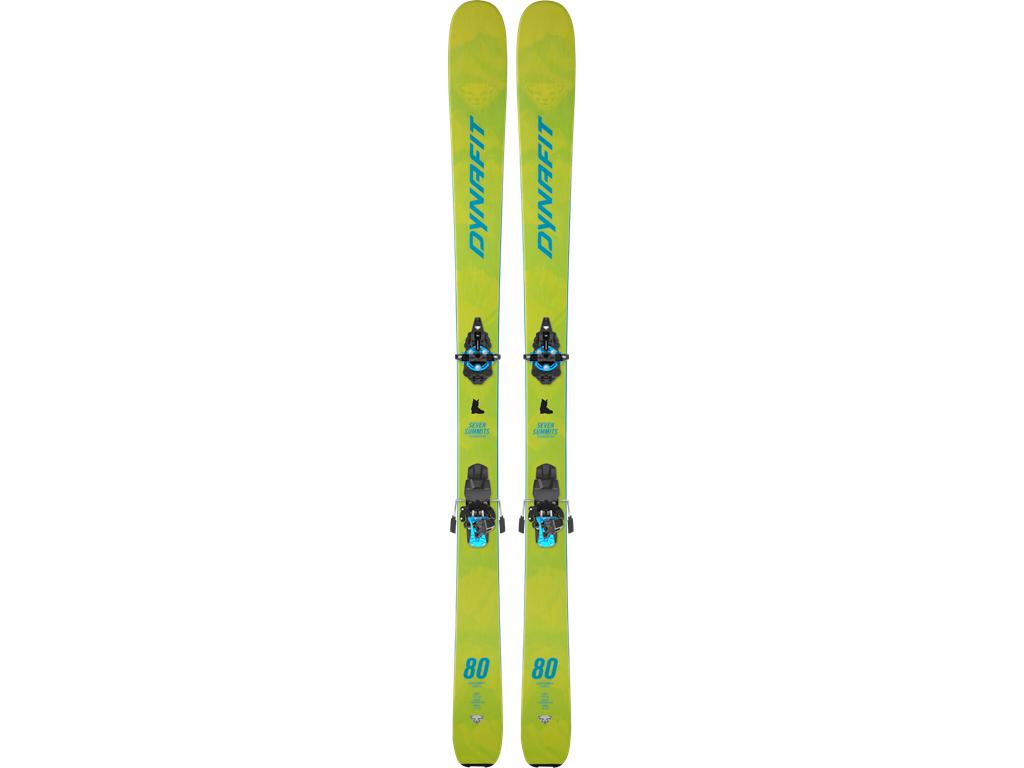 Youngstar Touring Ski
Light and forgiving – for kids and youth.
The Youngstar is the first touring ski especially for children and youth from DYNAFIT. It skis with ease and is forgiving.
The ski is a true all-rounder and was developed especially for next-gen ski tourers. It is already available in sizes starting at 120 cm. With an extra soft flex, this ski is well suited for kids and youth and easy to handle. With its low weight, the youngsters can save energy on climbs so they have enough power left for the descent. The full ABS sidewalls guarantee the best possible power transfer to the ski – whether on-piste or in the backcountry. No matter where you head, with the Seven Summits Youngstar, the kids are ideally equipped for all snow conditions and any kind of terrain.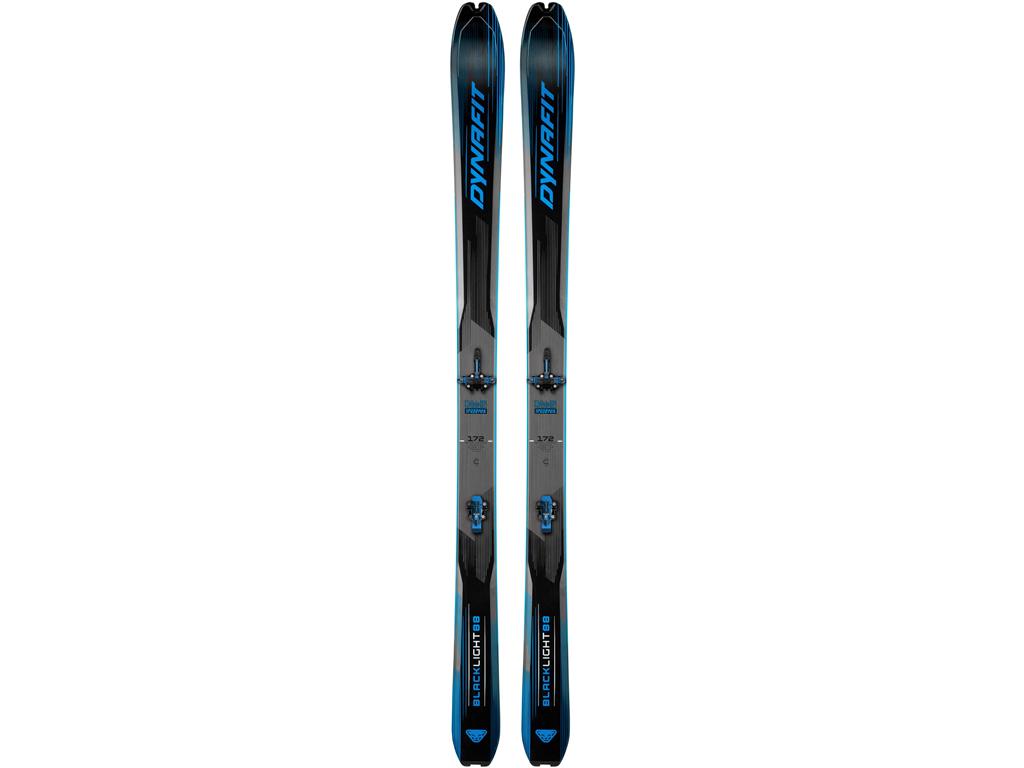 Blacklight 88 Touring Ski + Blacklight 88 Touring Ski Women
High-end touring ski for personal bests in any snow condition.
The Blacklight 88 for women offers convincing performance on alpine terrain and in all snow conditions as a light, versatile, high-end Speed touring ski.

This model was developed just for athletic, ambitious women ski touring enthusiasts who seek a light ski for the climb, but at the same time put value on outstanding downhill performance. The Blacklight 88 for women offers a women-specific Flex that is softer and lighter than in the unisex version. This makes the ski much more playful and enables more maneuverability on the descent. With an all-round sidecut and 88 mm underfoot, the shape is ideal for both hardpack and soft conditions as well as for great powder.

In addition, the new Blacklight 88 for women features the time-tested construction and properties of all the other Blacklight models. This ski has a 100% "UD" carbon top layer. UD is the abbreviation to describe the "uni" or one-directional arrangement of the fibers. Compared to classic carbon construction, UD carbon lends higher tensile strength and greater resilience while maintaining a lower density. The Blacklight 88 has a 100% premium Paulownia wood core. Thanks to its 3D construction, the ski lowers its total weight to reduce its swing weight in front of and behind the binding area to essentially reduce the overall weight of the ski. You get extremely stable ski handling despite its low weight.

The rocker construction at the tip and tail and the sidecut are also adapted for each ski size – a unique feature in the ski touring market. This keeps the effective edge length equally proportional to each size, allowing it to function independent of the size. In order to guarantee the best possible power transfer on the ski, the Blacklight is constructed with a full ABS sidewall. In addition, the base has a special racing grind for even more speed.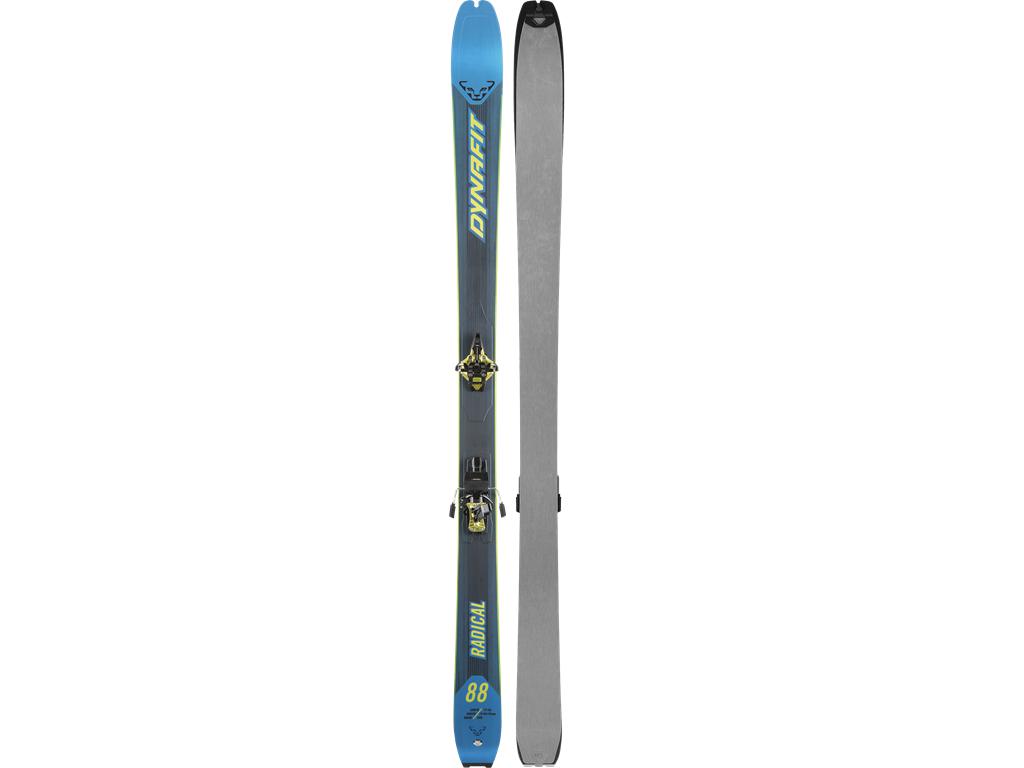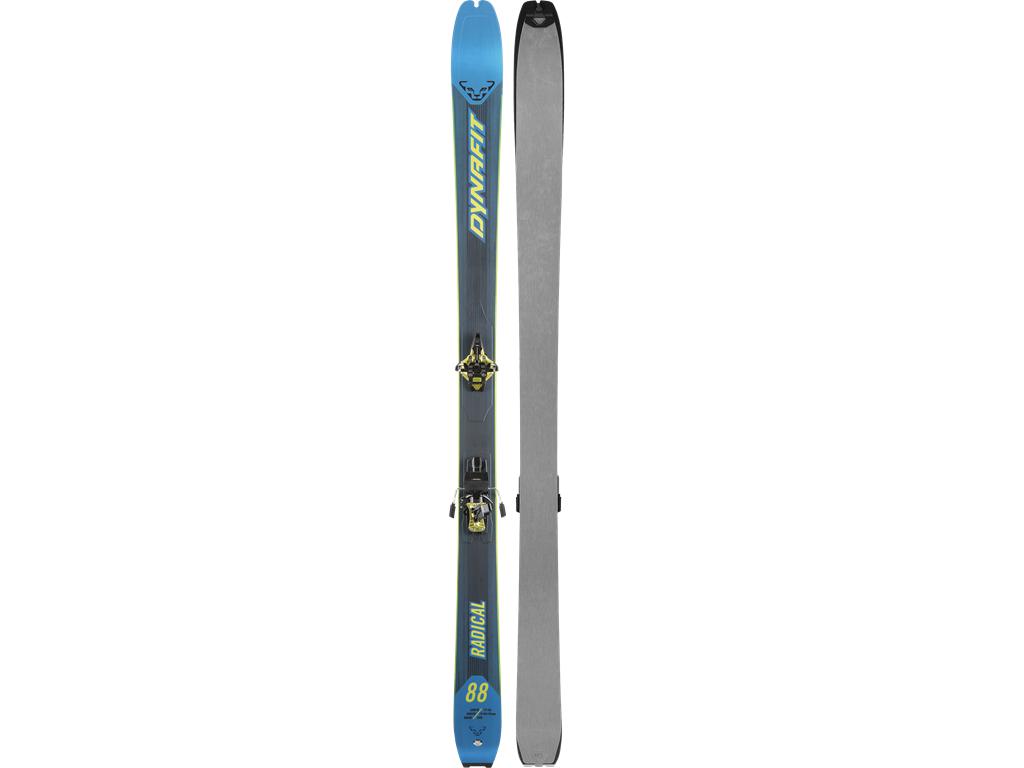 Radical 88 Ski Set + Radical 88 W Ski Set
The new Radical ski set was developed especially to meet the needs and demands of classic ski touring enthusiasts who seek a package for any and every day without the dilemma of making a choice.
With a waist of 88 mm, the Radical is all about lightness on the climb, while also guaranteeing great stability and a smooth, no-chatter ride on the descent. The ski scores big with its simple handling and easy turn initiation thanks to its rocker construction at tip and tail. The shape is ideal for everything from hardpack to softer snow to powder, making it a true Swiss army knife for all your tours. The full ABS sidewalls guarantee the best possible power transfer to the ski – whether on-piste or in the backcountry. The ski is also very forgiving with its wide turning radius. At the same time, the light wood core of poplar provides the necessary pop with high damping properties. Ideally proportioned ski dimensions contribute to balanced performance.
Our ski boots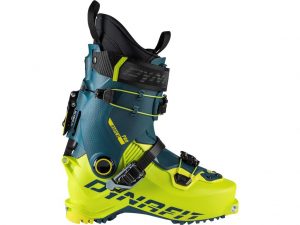 Radical Pro Ski Touring Boots Men + Radical Pro Ski Touring Boots Women
The Radical Pro ski touring boot features the revolutionary Hoji Lock System and is an impressive all-rounder with uncompromising performance both uphill and down.
The boot combines the seemingly contradictory worlds of freedom of movement on the ascent and rigidity for the downhill. In walk mode, the cuff and shell are separated from each other to be able to climb efficiently with a 60-degree cuff rotation for unrestricted, resistance-free mobility. Its low weight of 1,380 g (size 26.5) and a flexible tongue construction made of two different high-tech synthetics ensures an energy-saving, natural walking movement even on steep terrain. The new thermo-moldable boot liner (optional) offers stability and comfort with a perfect fit right out of the box. With these on, you will be ready to tackle long tours with many meters of climbing.
"One move to switch:" Once at the summit, the Radical Pro becomes a sturdy downhiller with top power transfer, thanks to the one-hand handling for the patented Hoji Lock System. In ski mode, the boot is set in a forward lean angle of 11 degrees. The ski-walk system's mechanism is integrated into a cable system together with the buckles and the Ultra Lock Strap. Flip the lever and the system is tensioned. Cuff and shell combine to create a positively locked unit that transforms the revolutionary ski-walk system into one unit totally without play. A unique feature on the market for precision and efficient skiing of the highest level that was normally seen only in purebred Alpine ski boots.
The Ultra Lock Strap and three micro-adjustable buckles allow the foot to be firmly and ideally positioned. That gives a flex index of 120 even on challenging downhill terrain, lending all-around impressive downhill performance on skis. In addition, the Pro Driving Spoiler increases downhill performance. Made of premium Grilamid, the entire boot is manufactured in Italy.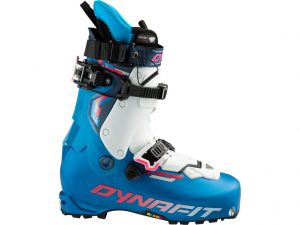 TLT8 Expedition CL Ski Touring Boots Men + TLT8 Expedition CL Ski Touring Boots Women
The TLT8 Expedition ski touring boot is a true lightweight at just 1,020 grams for fast climbing-focused tours.
This boot is the newest generation of the well-known best-selling TLT series. To ensure even more speed as well as comfort and reliability on the climb, DYNAFIT developers paid special attention to the new two-buckle Ultra Lock 4.0 closure system. Simple and intuitive in its operation, it saves time when transitioning from climbing to descending. The upper buckle has two functions: It operates as a lever for the ski-walk mechanism and also opens the shell. Just as with the mid-foot buckle, it is micro-adjustable and can be fit to your foot precisely. The system is also easy to operate with gloves, and wins points for its reliability and solid workmanship – for speed, without compromise.
Thanks to a cuff rotation of 60 degrees, this boot enables a natural, energy-saving walking gait even on very steep terrain. The shortened toe – the so-called "Speed Nose" – reduces the weight of this Speed ski touring boot, while its setback pivot point allows a more efficient walking gait. In downhill mode, you can lock this ski touring boot into a forward lean of 15 or 18 degrees. For ideal power transfer to the ski, the fit of the TLT8 Expedition has been re-engineered. Its last width of 103 mm offers great comfort on long tours as well as a secure, sturdy hold at the heel. The CL "Custom Light" boot liner is thermo-moldable and can thus be adapted to fit each individual foot – providing a perfect fit without pressure points. This ski touring boot is ideally suited for use with the new, ultralight Cramp-In crampon, which was developed in partnership with mountain sports brand SALEWA. Meaning your are also safe out of the binding while walking, be it on icy traverses or very steep terrain. As with all DYNAFIT ski touring boots, the TLT8 is made in Italy's Montebelluna and meets the highest quality standards.
TLT8 Expedition boot – Your lightweight companion for more speed on the mountain.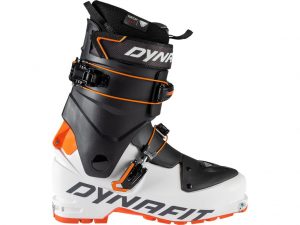 SPEED Ski Touring Boots Men + SPEED Ski Touring Boots Women
The light Speed ski touring boot , weighing in at just 1,050 grams, is convincing for both off-piste and on-piste tours offering climbing efficiency and downhill stability.
The name says it all: This boot is based on the proven DYNAFIT TLT Series with its intelligent features and performance. The Speed boot guarantees high performance and speed combined with durability, efficiency and sturdiness. Reduced to the minimum, this ski touring boot is an impressively easy-handling boot. With a last width of 99 mm and an athletic fit, it snugs the foot precisely, firmly and sturdily, and thus enables gives you the best control. The Ultra Lock 2.0 closure system allows you to adjust, open and close the Speed using just one buckle. This saves you time and eliminates unneeded handling in operation.
The boot liner scores high with its great comfort plus low weight to ensure you don't have a single gram too much on your feet. Combined with a cuff rotation of 60 degrees, a soft Pebax tongue gives more flex in the forward lean and guarantees ideal freedom of movement and support during fast, energetic ascents. In the body position on the descent, the shell with its premium Grilamid lends ideal rigidity and stability for top downhill performance. It can also be simply and reliably secured at your choice of a forward lean of 15 or 18 degrees. The POMOCA rubber blend in the outsole doesn't change when temperatures do and offers consistent performance when it comes to grip and stance while walking out of the binding. This ensures ski tourers are well equipped even on hardpack or in icy conditions. The boot is made in Italy.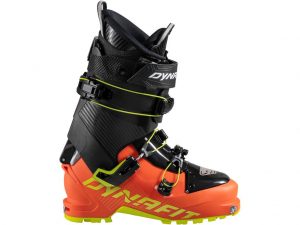 Seven Summits Ski Touring Boots Men + Seven Summits Ski Touring Boots Women
The Seven Summits ski touring boot has intuitive handling and wins points for classic ski tours on both the climb and the descent.
This boot is the evolution of the best-selling NEO series. As a reliable all-rounder, this three-buckle boot boasts great comfort and simple handling, plus strong downhill performance, not to mention a very attractive price. The Seven Summits will always be the right choice, whether you are a novice or experienced ski tourer.
This ski touring boot has picked up all the proven features of models in higher categories, yet remains true to simple and comfortable construction with easy handling. Boasting a low weight of 1,520 grams, longer tours are also a good option. Technical features, such as the proven Ultra Lock 2.0 closure system, a PU shell and a Marfran cuff ensure a progressive flex and outstanding downhill performance at a weight that is normally only found in Pebax boots. A driving spoiler and Velcro Power Strap increase downhill performance. The last has a comfortable width of 104.5 mm.
The Seven Summits is available with the Custom Ready (CR) boot liner for out-of-the-box comfort, ideal insulation and a long lifespan. As with all DYNAFIT ski touring boots, the Seven Summits is made in Italy's Montebelluna and meets the highest quality standards.
Price list
PRICE LIST
1 day
2 days
3 days
4 days
5 days
6 days
7th day
Blacklight SET
skis, skins, boots, poles
1000
2000
2880
3600
4300
5040
GRATIS
Radical SET
skis, skins, boots, poles
900
1800
2580
3200
3800
4200
GRATIS
Blacklight + skins
700
1400
2070
2560
3075
3780
GRATIS
Radical + skins
575
1150
1695
2060
2450
2730
GRATIS
Ski boots
450
900
1260
1600
1900
2100
GRATIS
Poles
100
200
270
340
400
420
GRATIS

Terms and conditions of rental: Valid identity document + refundable deposit 5000 CZK
Ceník průvodce
| POČET OSOB VE SKUPINĚ | 1 osoba | 2 osoby | 3 osoby | 4 osoby | 5 osoby | 6 osoby |
| --- | --- | --- | --- | --- | --- | --- |
| CENA ZA OSOBU | 1 890 | 1100 | 850 | 750 | 650 | 600 |
Časová náročnost: 4 – 5 hodin

Benefity:
individuální naplánování trasy (fyzické schopnosti klienta, podnebné podmínky, eliminace vybití baterky na trase)
pomoc s opravou a nastavením kola
bezstarostná jízda s poznáváním krajiny a zajímavostí v oblasti Krkonoš
eliminace stresových faktorů – guide se postará o vaše bezpečí v horách a komfort během výletu